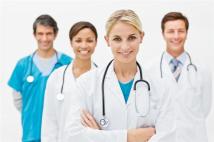 We have a team of Registered Vascular Technologists (RVTs) who are highly trained in vascular diagnostic technology and perform all of our studies.  They specialize in the use of ultrasound, sonogram, or echocardiogam equipment to help in the diagnosis of disorders related to blood flow anywhere in the body.  Each of them has studied Vascular Technology at the college level and passed the required exam to become registered.
Our RVTs are trained to assist patients as they prepare for diagnostic procedures as well as answer any questions patients may have.  Working closely with the doctors, they perform ultrasound diagnostic procedures in order to diagnose potential disorders in a patient's blood vessels.  Using these procedures, the RVTs check the speed of blood flow, blood pressure, and oxygen levels at any location within the patient's veins and arteries.
Our RVTs are extremely important in helping to diagnose such conditions as congenital heart disease, deep venous thrombosis, coronary artery disease, peripheral arterial disease, and more.  They are a vital part of our team and are here to help you get the medical diagnosis and treatment you need.